YouTube Management Services
Are you tired of wasting time and money on the videos you upload to your YouTube channel? If so, we are here to help you manage your YouTube channel easily and efficiently.
YouTube has become the second largest search engine in the world. That means a lot of people are searching for videos. So we help you grow your business by helping others find the videos they need. We are experts at YouTube and have helped many businesses grow.
YouTube is the world's largest video sharing platform and one of the most visited websites on the Internet. The site offers video hosting, video search, and video sharing. With more than 1 billion users, it is the second most used search engine in the world, right behind Google.
Why YouTube Channel Management Services?
As YouTube continues to grow, so does the number of channels that are being created on the platform. And what happens when you have so many channels on your YouTube account?
First off, you're spending more and more time managing them. But secondly, you're also losing valuable traffic and revenue because your ads aren't being shown where they belong.
People are using YouTube to make a living. And a big part of their success is actually growing their channel. But because most people don't understand YouTube management, they end up losing a lot of money and time. And this leads to a big frustration when their channel fails to grow.
Most people think that building a successful YouTube channel means having a lot of subscribers and views. But this is not true. What really matters is building an effective brand and an active community around your YouTube channel. And this can only be done by managing the channels growth properly.
Advantages of Hiring Us for YouTube Management
Our YouTube Channel Management Services can help you to create and manage your own YouTube channel. We will take care of all the technical stuff so you can focus on your business.
You don't need to worry about finding the best keywords or getting your videos optimized. We do all the work for you.
The YouTube channel management services we offer are extremely beneficial to our clients. The main benefit is that it allows us to save a lot of time and effort on their behalf.
By outsourcing the video editing, uploading, and scheduling to us, we can do it for them, saving them a lot of time and hassle.
Our YouTube Management Services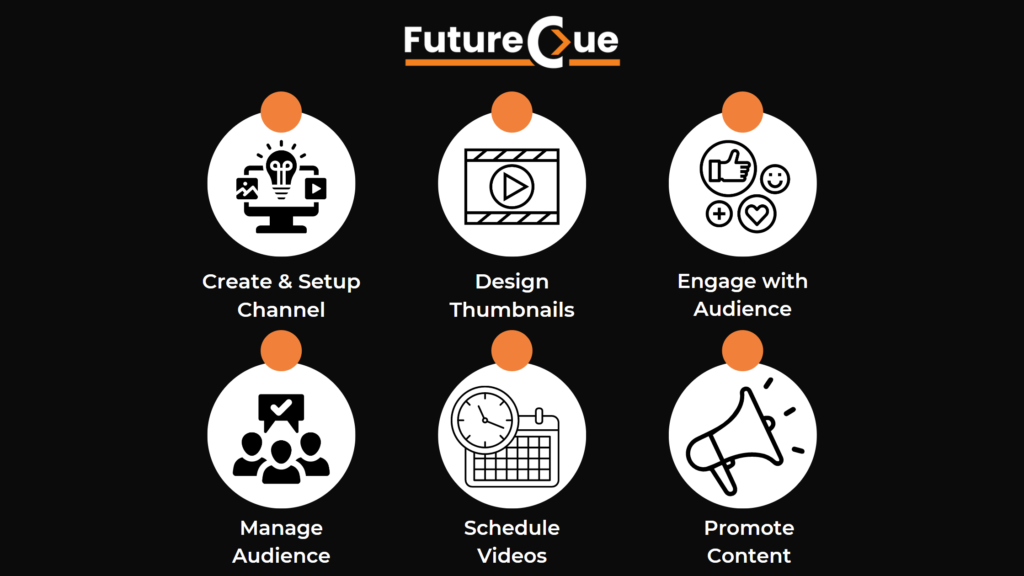 We are a leading provider of YouTube management services to the video marketing industry. We offer a complete suite of video upload, distribution and analytics tools.
Our YouTube management services include the creation and implementation of a YouTube channel, and uploading, editing, and monitoring of videos. Our team of video experts can help you make your videos better than ever before. We provide a complete package of YouTube Management including:
Creating and Setting Up YouTube Channel
Following YouTube Guidelines Accordingly
Design Video Thumbnails
Managing YouTube Channel
Engage with Audience
Managing Existing Audience and Enhancing them
Scheduling Videos
Promoting YouTube Videos through legitimate ways
How we Manage YouTube Channels?
Optimize Videos
We not only upload your YouTube Videos but optimize them using SEO based titles, Meta description and YouTube tags. This helps in ranking of videos and makes them reach to the targeted audience.
Audience Research
Audience research is a crucial part of any successful online marketing campaign. It is important to find out what is working and what isn't so that you can improve your efforts. You can use audience research to learn which types of videos get the most views and which ones are least popular. This can help you make better videos in the future.
Audience research for YouTube management gives the information about the demographics of the audience and what they like. We provide statistics like age, gender, languages, countries, devices and operating systems, and interest areas. Audience research is a great way to get an idea of how your viewers feel about certain things.
Audience Engagement
We engage with your channel audience on daily basis through comments, updates and regular posts. This makes the audience feel connected and more attracted towards your channel.
Analytics Management
The main benefit of our analytics management for YouTube is that it can provide real-time insights into how your video is performing. It can help you to understand the impact of your content on viewers and it can also help you to measure the success of your videos. You can use this information to make better decisions about your content and your marketing.
Marketing and Content Strategy
Our services can help you create a successful YouTube marketing strategy. You will be able to reach a large audience and increase your sales. We can help you with every aspect of creating your YouTube strategy, including choosing a channel name, developing a profile, uploading videos, promoting your content, and even making money from your YouTube channel.
Video Marketing
Our Team has experience of YouTube Ads and YouTube Video Marketing, so we will manage YouTube ads and expand the existing reach on your YouTube videos.
Content Creation
Our experienced team can provide content creation services for your YouTube Channel management. We'll start by searching relevant keywords for your business and design content on basis of those keywords.
Provide Reports
After running successful campaigns on YouTube, we deeply analyze the statistics of your YouTube channel and videos' performance and strategize accordingly for better performance.
FAQs
Do you design YouTube banners and thumbnails?
Yes! Our YouTube management services include video thumbnails and banners designing.
Do we need YouTube channel credentials?
Yes! But you always have an option to assign us the roles and keep the credentials confidential.