Best Web Hosting Services For Developers
The web hosting service is the first thing that most developers need to create their website or blog. In this post, we will discuss some of the best web hosting services for beginners. We also look at the pros and cons of these hosting options.
Developers use the web to communicate, share ideas and products, conduct business, promote themselves, and do everything else that makes up the internet. They want a website that works well and looks great. They don't want to waste time trying to figure out why their website isn't working right.
If you want to help them and make their lives easier, you need to know a lot about web servers, programming languages, databases, web design, e-commerce, online marketing, SEO, and search engines.
Your web hosting account provides the tools you need to get started. These tools can be used to create and maintain websites, store and manage data, and handle all of the tasks involved in running a business on the internet.
Here we describe a few popular Hosting Services for developers with all required features:
1. Hostinger: Best Web Hosting Services For Developers
Hostinger is an Australian-based web hosting service. They offer hosting packages for individuals and businesses. Their goal is to provide an easy-to-use hosting service that's affordable and secure.
Hostinger uses a native management panel called hPanel. The functionality is similar to cPanel. It's easy to navigate and looks modern.
Hostinger has integrated GIT access with all its plans. This tool allows you to handle all projects more effectively by tracking changes and saving copies of each version, which you can later reset, edit or download.
All provider's shared hosting plans include an access manager. If you're working with multiple people on a project, this way, you can allocate specific roles and access options to others.
All plans include weekly backups, with the priciest shared hosting plan being backed up on a daily basis, too.
The provider is highly performance-oriented.
Hosting Plans Of Hostinger:
Pros:
Functional hPanel control panel.
Very good performance.
Some of the cheapest pricing for shared and VPS.
Cons:
No staging.
Only the priciest plan includes daily backups
2. SiteGround: Best Web Hosting Services For Developers
SiteGround Hosting Plan is one of the fastest-growing hosting service providers in the world. It offers you a lot of features with great customer support and reliability.
This is the ideal host for any small business, personal blog, or e-commerce website. Get started at $3.95 per month and use our coupon code to save up to 40% on your first year.
You can purchase a domain name through SiteGround and get it for free! All you need is to enter your email address. In a few minutes, you will receive an email with the details of your domain name.
SiteGround has a native user interface that's very easy to use. It's a perfect option for those who are just getting started on their online business.
While cPanel isn't available, I can promise that you won't miss it when I tell you that you can manage everything on your site from a single location.
SiteGround's Site Tools panel is as functional as it is customizable, and it's also the best place to access the most commonly used tools in no time.
This plan includes a staging environment.
When you first start experimenting with Amazon, you can do so safely without impacting the "live" version.
This plugin is only available for WordPress websites. If you're planning on working with other people on the same project, SiteGround lets you add collaborators with its two pricier plans.
You can assign separate logins to each editor, or you can group all the editors under the same login name. If you want to keep track of what the editors have done, use the Site Tools login page.
With the new restrictions, you can also restrict other people from accessing the billing section. I have this image of a world full of people in constant pain.
This is included with only the highest tier plan, but it's good to know that SiteGround lets you register your clients as users in your account and get them a white-label panel.
It's also the only plan that includes a pre-installed Git control system.
Hosting Plans Of SiteGround:
Pros:
Data centers on 3 continents.
100% white-label control panel feature available.
Very fast server response time.
Cons:
Premium-level prices.
The storage is relatively small with each plan.
3. InterServer: Best Web Hosting Services For Developers
InterServer web hosting Service offers shared, VPS, cloud hosting, business email and other online services to small and medium businesses. InterServer's services include website building, domain registration, business email, and online stores for a fixed monthly fee.
Interserver gives you a typical account. The panel is one of the easiest to use. And the most useful. If you are a beginner, you will find it easy to use, and if you are an expert, you will be familiar with it.
Interserver is easy to scale with. The provider lives by a no-nonsense policy, meaning you don't pay for anything you don't need.
Each plan gives you a bigger slice of the server's resources. InterServer has many options when it comes to coding languages.
The provider supports a variety of languages. Interserver has a staging option that will allow you to perfect and continuously improve your site but not impact the live site. You can use the Softaculous App Installer.
Hosting Plans of InterServer:
Pros:
Supports a variety of coding languages.
cPanel control panel.
Affordable prices with all billing terms.
Cons:
Below average response time.
Dated design.
4. WP Engine: Best Web Hosting Services For Developers
WP Engine WEb hosting service:
WP Engine is a web hosting service that provides its customers with a fast, secure, and reliable web host. This is a great company to consider if you need a host that you can rely on, and that won't put any limits on your site.
WP Engine offers both cloud-based and dedicated servers. With cloud-based hosting, the customer pays a monthly fee, and gets access to all of the servers.
Dedicated servers are rented by the hour, and each server has its own unique IP address. Dedicated servers are ideal if you need a lot of space, or need to run a very specific software package.
WP Engine offers free daily backups and weekly snapshots for its cloud-based customers. Dedicated customers get weekly snapshots for a small fee. In addition, it also offers automatic failover, which makes it possible to switch between servers in an instant.
WP Engine offers managed WordPress hosting, along with a self-managed option. This means that the customer has access to their account, and can do everything that is needed to make changes.
WP Engine offers shared, dedicated, and VPS hosting, as well as free plans. Plans range from $4.99/month for unlimited resources, to $39.99/month for 30 gigabytes of storage, to $69.99/month for unlimited resources, 30 gigabytes of storage, and 50 gigabytes of transfer.
Payment Plans of WP Engine:
Pros:
Permission and activity management option.
Very reliable uptime.
3 environments – development, staging, and production.
Cons:
Domains are not included.
Premium prices
5. Liquid Web: Best Web Hosting Services For Developers
Liquid Web Web Hosting services is one of the leading web hosting companies in the world. It has been in business since 2003 and now offers a wide range of services to individuals, businesses, government agencies, and nonprofit organizations. With over 7 million domains hosted, Liquid Web Web Hosting services has the capacity to host your website, blog, forum, or any other content based service.
Liquid Web is the only web hosting company in the industry that offers all of these perks to customers:
It provides free SSL certificates and unlimited bandwidth for your domain name.
It provides a 1-click installation wizard for software like WordPress.
It gives you more than 20 GB of data space and offers additional storage for an annual fee.
It gives you access to 24×7 customer support via phone, chat and email.
It has one of the most advanced servers available on the market.
It provides an easy-to-use control panel.
Hosting Plans for Liquid Web: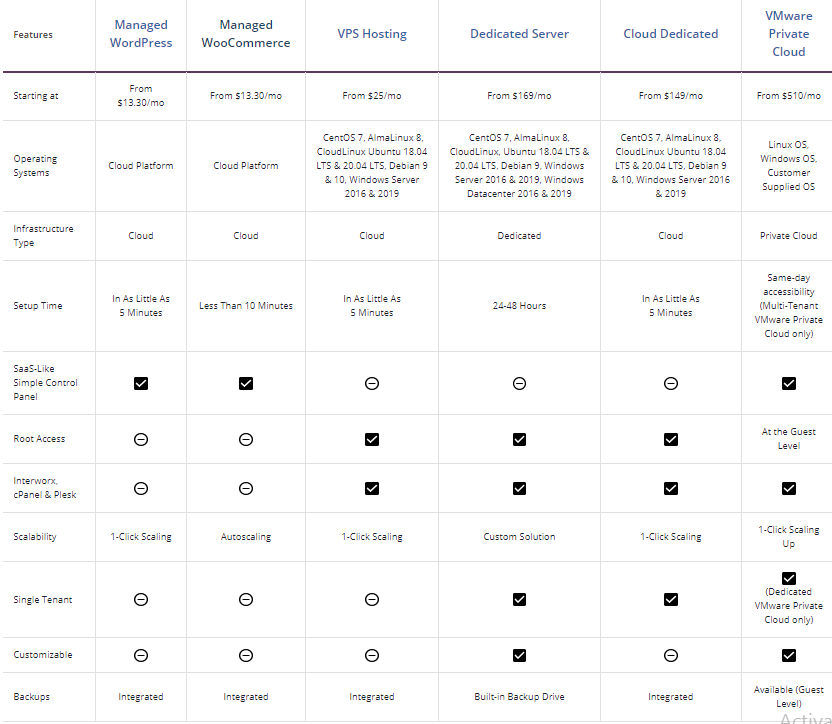 Pros:
3 control panel options.
100% SLA uptime guarantee.
Affordable VPS hosting,
Cons:
No pre-installed staging.
High prices for short billing periods
6.Kamatera Web Hosting: Best Web Hosting Services For Developers
Kamatera web hosting service is a reliable, fast, low-cost and flexible hosting company offering free domain registration, web site hosting, E-mail accounts, secure website and many other web services for businesses.
Kamatera's entry level server starts at budget prices. You can get away with just paying a few dollars per month if you have a small project. While Kamatera does offer managed service, you can get a better deal on managed server elsewhere.
Fast and dependable performance, backed up by powerful Intel Xeon processors and a 99.9% uptime guarantee
Server images for common configurations – one-click installation of Linux & Windows OSs, cPanel, WordPress, and development frameworks
13 data centers across 4 major continents
30-day free trial grants you access to a single cloud VPS with $100 credit.
You'll have a dedicated account manager to help you with the transition into selling on Amazon, and you'll get access to her 24/7 for help if you need it.
Hosting Plans:
7.Scala Web Hosting: Best Web Hosting Services For Developers
Scala Web Hosting is a fast and secure hosting service for websites. You get unlimited disk space, bandwidth and email with free plans. You can upgrade to paid plans that include unlimited everything for $9.99/month.
With Scala Hosting's self-managed VPS plans, you get the same features as with our managed VPS plans, but for a lower price.
Even though a managed service is a little more expensive, you get extra value when you select one.
If you decide to go with a managed hosting plan, you could save yourself a few dollars every month, but in the process, you'd give up access to technical support.
Scalable hosting is the perfect choice for those with specific resource requirements.
There are many reasons that an ecommerce site might not let you scale easily:
The plans are fully managed and have a guaranteed uptime guarantee.
If your uptime is less than this, the service will issue a full refund for your month's expenses, free, white-label hosting control panel and an individual account manager open litespeed integration for fast loading times.
Hosting Plans:
8.Hostpapa Web Hosting Services: Best Web Hosting Services For Developers
Hostpapa offers a wide variety of web hosting services. These include unlimited domains, unlimited e-mail accounts, free domain name registration, free cPanel hosting, and free unlimited storage space.
Hostpapa offers free SSL encryption to protect your web site from eavesdroppers. In addition to web hosting, Hostpapa also offers data centre services. Hostpapa will even provide you with a dedicated IP address if you need one.
Hostpapa uses state-of-the-art servers, and they automatically back up your files on a daily basis. For e-mail, they use a spam-filtering system.
Energy-efficient data centers powered by 100% renewable energy
Reseller plans with great value
Proactive security monitoring of network infrastructures
PHP modules installation and upgrades for managed plans#
Hostpapa Payment Plans:
FAQs: Best Web Hosting Services For Developers
What is best web hosting service?

The best web hosting service can depend on the type of site you're planning to create, and how much traffic you expect. Generally, shared web hosting plans are affordable and easy to use, while the managed WordPress hosting services are designed for people who are already working with WordPress and want to save time and effort.
Where can I host a web development project?

A web development project can be hosted on a server, or it can be hosted in the cloud. Hosting in the cloud is generally a cheaper option, but you will need to choose a hosting plan that has adequate disk space for your website.
Is AWS good for web hosting?
AWS offers web hosting services, and you can also purchase a small instance to host a website. However, if you want a reliable platform with a full suite of features, you should consider opting for dedicated servers.
Which hosting is best for website 2022?

The best hosting option for your website in 2022 will depend on a few factors. First, you should consider the features and flexibility you want, and the cost. Next, you should consider the number of visitors, and how much data they generate. Then, you should consider the amount of server space, and how much traffic you get.
How do I choose a web host?

You should select a web host that offers adequate bandwidth, good uptime, and a reliable customer support team. While these features are essential for your site, you should also consider the type of hosting service that you prefer and the level of customization that you want.
Final Thoughts:
When it comes to web hosting, there are tons of different options out there. Some companies offer free options, while others offer paid plans. Which one is right for you? Well, that really depends on your needs. If you're just getting started with a website, a free web hosting option might be the best option for you. However, if you're looking to make your site more professional, then a paid web hosting service might be the better option. It's all about finding a balance that works for you and your needs. Let us know which web hosting plan is the best fit for you in the comments below.
Related Content: